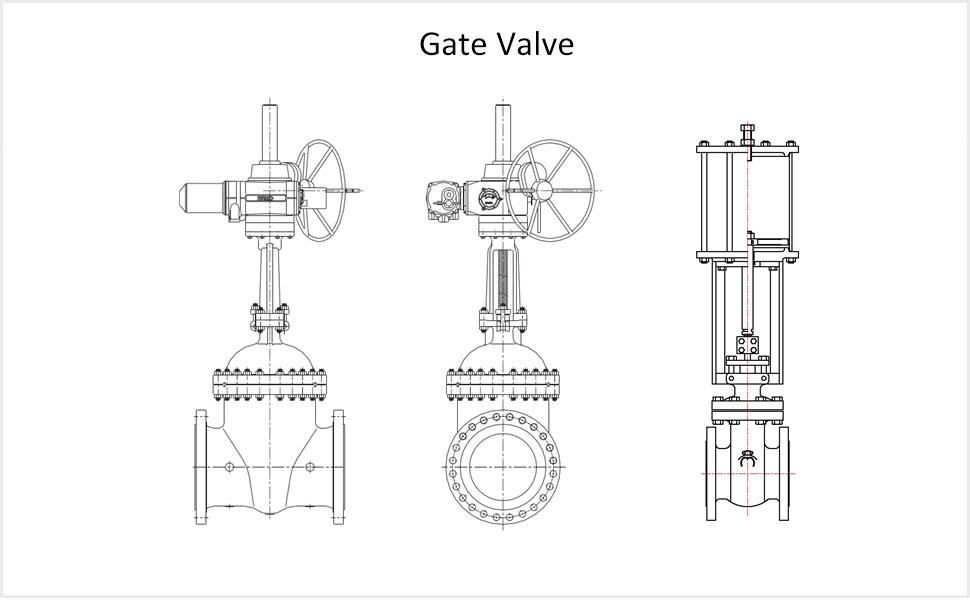 >> BODY
The Basic Dimension Wall Thickness, Face To Face And Flange Comply With The Relevant Api And Ansi Standards. The Body To Bonnet Flange Is Normally Circular, Except In The 150 Lb Class Which Is Oval. The Sealing Surface For Connection To The Bonnet Are Flat Finish In The 150 Lb Class, Male And Female In The 300Lb Class Or May Be Ring Joint In The 600 Lb Class And Above. The Body Is Threaded Or Seal Welded For Renewable Seats. Bosses Are Provided For Drain Taps Or By-Pass Piping.
>> BONNET
The Bonnet Is In Cast Steel. It Is Machined To Accept The Yoke Sleeve And Incorporates A Stuffing Box Dimension In Accordance With The Api Standard.
>> WEDGE
The Wedge Is Part Of The Trim. It Is In Cast Stainless And Alloy Steel For Diameters Up To 10" And In Cast Steel For Larger Valves. It Is Connected To The Stem By Means Of A T-Joint. The Guides On Each Side Of The Wedge Are Machined For Proper Alignment With The Body Guides. Special Attention Is Given To The Seating Surface Which Are Ground And Lapped To Insure A Perfectly Tight Seal.
>> SEAT RINGS
The Seat Rings As A Welded-In Type Is Designed To Prevent Any Turbulence And Damage By Corrosion. It Is Are Forged Or Rolled Into One Piece For All Dimensions, Heat Treated To Obtain The Desired Surface Hardness, And Cleaned Thoroughly Before Assembling.
>>

Specifications
Valve Model
Series DRF

Valve Type

Outside Screw and Yoke

Valve Size
1/2"(15A) ~ 30"(750A)
Valve Rating

ANSI 150# to 600#

JIS 10K to 40K

PN 10 to 40

End Connection
RF, FF, BW, SW and so on
Body Material

A105, WCB, CF8, CF8M, CF3, CF3M, CD4MCU, CA6NM and so on

SCPH2, SCS13, SCS14, SCS19, SCS16, SCS1, SCS2 and so on

304, 316, 316L, 420J2 and so on

MONEL, HASTELLOY, TITANIUM, ALLOY 20, MORE-1 and so on

+STL, +TCC, +RUBBER, +TFE, +PFA, +CERAMIC and so on

Wedge Material

13CR, WCB, CF8, CF8M, CF3, CF3M, CD4MCU, CA6NM and so on

SCPH2, SCS13, SCS14, SCS19, SCS16, SCS1, SCS2 and so on

304, 316, 316L, 420J2 and so on

MONEL, HASTELLOY, TITANIUM, ALLOY 20, MORE-1 and so on

+STL, +TCC, +RUBBER, +TFE, +PFA, +CERAMIC and so on

Seat Material

PTFE, RTFE, CTFE, PEEK and so on

13CR, A105, 304, 316, 316L, 420J2 and so on

MONEL, HASTELLOY, TITANIUM, ALLOY 20, MORE-1 and so on

+STL, +TCC, +RUBBER, +TFE, +PFA, +CERAMIC and so on

Bonnet Type
Plain (-17℃ to 230℃)
Extension ( -45℃ to -17℃, over 230℃)
Cryogenic ( -196℃ to -45℃)
Flow Characteristic
Inherent, On-off
Leakage Class
Metal Seat
Rated ANSI Class IV, V
Soft Seat
Rated ANSI Class VI
Actuator Combination
Piston Cylinder Actuator, Electric Actuator