Actuator Valve [Heavy Duty Type]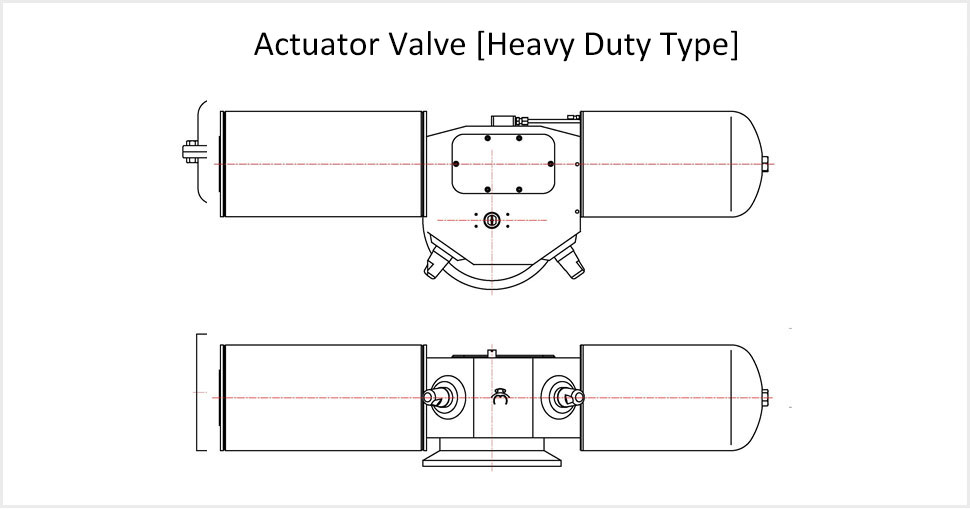 >> General
Series DRZ-01 The MegaTork Jacket Actuator Was Engineered And Is Manufactured To Provide Maximum Torque Output With Minimum Supply Pressure. Simplicity, Reliability And Economy Being At The Top Of The List Of Design Parameters. The MegaTork Actuator Is Suitable For Any Quarter Turn Application Such As Ball, Plug, Butterfly Valves Or Dampers, In Both On-Off And Control Heavy Duty Service.
>> Performance
- Totally Enclosed, Weatherproof Housing In Fabricated Carbon Steel For Maximum Strength.
- Full Stainless Steel Sea, Ship, And There Is No Worry Of Corrosion For Use In The Offshore Plants. (Special Optional)
- Generates High Torque Required Actuator Is Multi-Link Structure, Is Suitable For Valve Of High Pressure Valves And Large Size.
- Suppressing The Phenomenon Of The Droplets Generated In The Cylinder As A Heat Insulating Material. (Patented)
- Less Air Consumption In Multi-Link Structure.
- External Travel Stops For Precise Angular Stroke Adjustment Between 85° And 95°.
(95° Over To Special Order)
>> Design Flexibility
- Bushings Made Of Bronze Or Copper, Charged With Teflon, To Provide Minimal Friction And Extended Life Cycle.
- Internal Link Parts Heat Treated To Meet The Strong Torque.
- Hard Chromium Plated And Polished Cylinder And Piston Rod For Corrosion Resistance And Minimal Friction. (Full Stainless Steel To Special Order)
- Precision Machined Piston Rod And Piston Seals Provide Low Hysteresis And High Sensitivity, Preventing Sticking Problems.
- Jackscrew(Worm Gear) Or Hand Pump Manual Override Available.
- Special Coatings For Outside Or Corrosive Environments.
- Rotational Adjustment For The Actuator Spindle, In Both Directions Of Travel.
>>
Design Flexibility
| | |
| --- | --- |
| Actuator Model | Series DRZ |
| Active Type | Double Acting, Spring Return |
| Air Supply | 2.8 Bar, 4.2 Bar, 5.6 Bar, 7.0 Bar |
| Turn Action | CCW (Counter Clockwise), CW (Clockwise) |
| Material | Carbon Steel, Stainless Steel |
| Cylinder Bore | Ø140, Ø160, Ø200, Ø250, Ø300, Ø350, Ø400, Ø450, Ø500 |
| Cylinder Type | Pneumatic, Hydraulic |
| Option | Air Volum Tank, Manual Hand Wheel (Gear Type) |