Easy V-Ball Valve [Top Entry]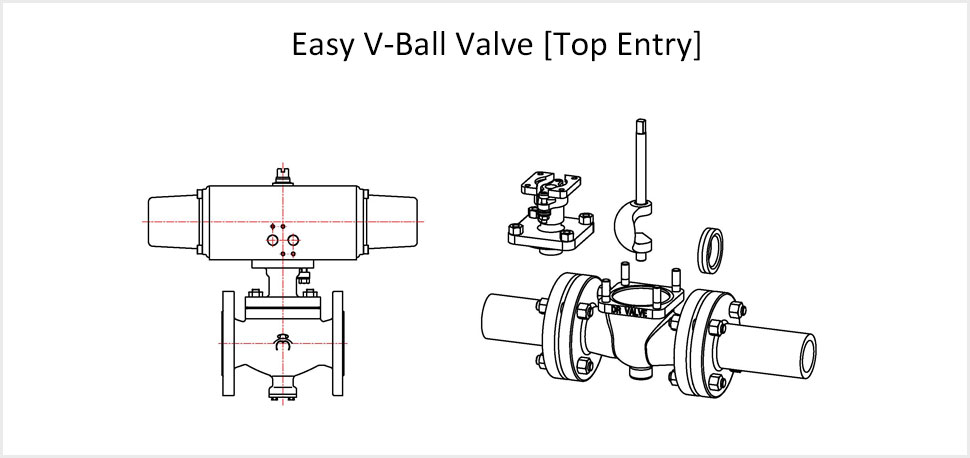 >> General
Series DRV-88 Is The Top Entry Type For Maintenance Without Removing The Valve From The Pipeline, The Bonnet Can Be Opened To Replace The Like V-Ball And Seat Ring In The Valve Inner. It Is Very Economical.
Easy V-Ball Valve Is Full Bore, Trunnion, And Stem Ball Type V-Notched Ball Valve, Which Is Exclusively Designed For Excellent Proportional Control As Much As Globe Type Control Valves And Manual Valves.
Series DRV-88 Have Special Shape Of Disc Which Is Suitable For Accurate Throttling Control And On-Off Service Not Only General Fluids But Also Critical Condition In Powders, Slurry, Fly Ash, Pulp, Gummy, Fibrous Material And Other Fluids Having Special Characteristics.
>> Performance
- High Cv Body Size Ratio. (Full Bore)
- Controls Through 90° Rotation.
- High Cv To Valve Weight Ratio Compared Conventional Control Valves.
- Excellent Flow Control Rangeability.
- Easy Maintenance.
- ISO Standard Mounting Hole.
- Direct Mounting Actuator.
>> Design Flexibility
- Control Any Fluids.
- Swing Through And Tight Shut-Off Seated Trim Designs.
- Full Range Of Body And Trim Material Options, With Available Of Hard Facings.
- Seat Changeability.
- Double-Eccentric Type.
- Self-Centering And Tight Seating.
>>

Specifications
Valve Model
Series DRV
Valve Type
Side entry type
Valve Size
1/2"(15A) to 24" (600A)
Valve Rating

ANSI 150# to 2500#

JIS 10K to 63K

PN 10 to 100

End Connection

WF, RF, FF, RTJ and so on

Body Material

WCB, CF8, CF8M, CF3, CF3M, CD4MCU, CA6NM and so on

SCPH2, SCS13, SCS14, SCS19, SCS16, SCS1, SCS2 and so on

304, 316, 316L, 420J2 and so on

MONEL, HASTELLOY, TITANIUM, ALLOY 20, MORE-1 and so on

+STL, +TCC, +RUBBER, +TFE, +PFA, +CERAMIC and so on

V-Ball Material

CF8, CF8M, CF3, CF3M, CD4MCU, CA6NM and so on

SCS13, SCS14, SCS19, SCS16, SCS1, SCS2 and so on

304, 316, 316L, 420J2 and so on

MONEL, HASTELLOY, TITANIUM, ALLOY 20, MORE-1 and so on

+STL, +TCC, +RUBBER, +TFE, +PFA, +CERAMIC and so on

Seat Material

PTFE, RTFE, CTFE, PEEK and so on

304, 316, 316L, 420J2 and so on

MONEL, HASTELLOY, TITANIUM, ALLOY 20, MORE-1 and so on

+STL, +TCC, +RUBBER, +TFE, +PFA, +CERAMIC and so on

Bonnet Type
Plain (-17℃ to 230℃)
Extension ( -45 ℃ to -17℃, over 230 ℃)
Cryogenic ( -196℃ to -45℃)
Flow Characteristic
Approximative, On-off
Leakage Class
Metal Seat
Rated ANSI Class IV
Soft Seat
Rated ANSI Class VI
Actuator Combination
Diaphragm Actuator, Spring Return Cylinder, Double Acting Cylinder, Electric Actuator