High Performance Butterfly Valve [Triple Offset]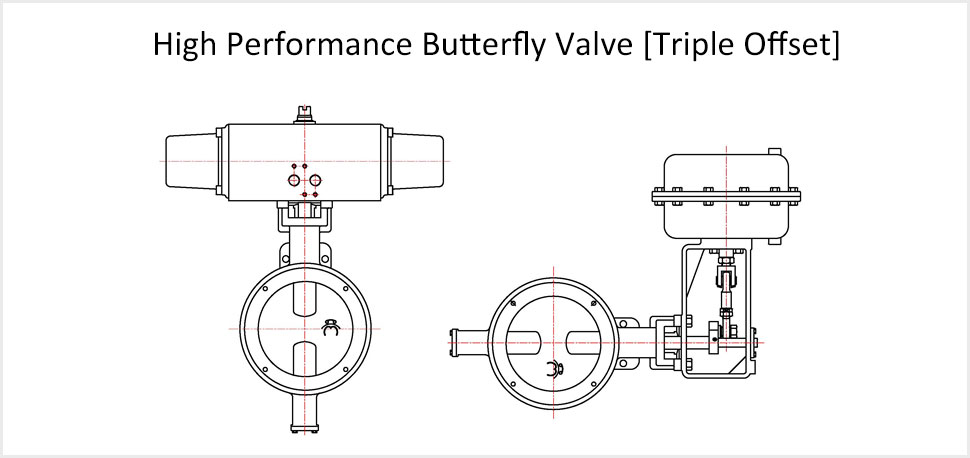 >> General
Series DRB-59 Butterfly Valves Has Been Developed For A Large Number Of Applications Throughout Process Industries.
Series DRB-59 Triple Offset Type High Performance Butterfly Valves Are Mainly Used For The Control Of Fluids Flowing In Large Valve At High Temperature & Differential Pressure. It Offers Added Advantages Such As Simple Structure And Low Cost.
>> Performance
- High Cv To Valve Weight Ratio Compared To Conventional Control Valves.
- Throttling Controls 60° Rotation, On-Off Controls 90° Rotation.
- Excellent Control Range Ability.
- Easy Maintenance.
- Iso Standard Mounting Hole.
- Direct Mounting Actuator.
>> Design Flexibility
- Asymmetrical Disk Structure, The Valve Torque Is Very Small.
- Swing Through And Tight Shut-Off Seated Trim Design.
- Flange Connection Versions Available.
- Full Range Of Bonnet And Packing Design To Suit Various Temperatures And Fluids.
- Provides Fire Safe Sealing, Which Combines A Soft Seal Ring And Metal Seal Ring.
- Full Range Of Body And Vane Material Options, With Availability Of Hard Factings.
- Triple-Offset Type.
- Self-Centering And Tight Seating.
- Wafer Type As Standard.
>> S

pecifications
Valve Model
Series DRB
Valve Type

High Performance Soft Seat Type, High Performance Metal Seat Type, Lined Type

Valve Size

3"(80A) to 40" (1000A)

Valve Rating

ANSI 150# to 600#

JIS 10K to 40K

PN 10 to 40

End Connection
WF, LUG, RF and so on
Body Material

WCB, CF8, CF8M, CF3, CF3M, CD4MCU, CA6NM and so on

SCPH2, SCS13, SCS14, SCS19, SCS16, SCS1, SCS2 and so on

304, 316, 316L, 420J2 and so on

MONEL, HASTELLOY, TITANIUM, ALLOY 20, MORE-1 and so on

+STL, +TCC, +RUBBER, +TFE, +PFA, +CERAMIC and so on

Disc Material

CF8, CF8M, CF3, CF3M, CD4MCU, CA6NM and so on

SCS13, SCS14, SCS19, SCS16, SCS1, SCS2 and so on

304, 316, 316L, 420J2 and so on

MONEL, HASTELLOY, TITANIUM, ALLOY 20, MORE-1 and so on

+STL, +TCC, +RUBBER, +TFE, +PFA, +CERAMIC and so on

Seat Material

PTFE, RTFE, CTFE, PEEK and so on

304, 316, 316L, 420J2 and so on

MONEL, HASTELLOY, TITANIUM, ALLOY 20, MORE-1 and so on

+STL, +TCC, +RUBBER, +TFE, +PFA, +CERAMIC and so on

Bonnet Type
Plain (-17℃ to 230℃)
Extension ( -45℃ to -17℃, over 230℃)
Cryogenic ( -196℃ to -45℃)
Flow Characteristic
Inherent, On-off
Leakage Class
Metal Seat
Rated ANSI Class IV, V
Soft Seat
Rated ANSI Class VI
Actuator Combination
Diaphragm Actuator, Spring Return Cylinder, Double Acting Cylinder, Electric Actuator